Search Engine Marketing: Google Search Console – Introduction
Introduction
Let's say you just finished your WordPress website/blog and now you want to know which keywords your community uses to reach your website. With the information:

On one hand, you are able to understand users' intents by analysing the lexical field of the keywords used in the search engine. This could help you to write content that is more in line with users' needs.
On the other hand, you can work on your website natural search engine optimisation (SEO). In the long run this will have an impact on the number of users on the website.
The Google Search Console (before called Webmaster tool) allows you to do this analysis. Other search engines like Bing also have an equivalent (Bing Webmaster Tool). Nevertheless, since the Google search engine is the largest in terms of volume, in this article we will cover the essential features of the GSC, but the principle is the same on the Bing Webmaster tool.
The Google Search Console main interface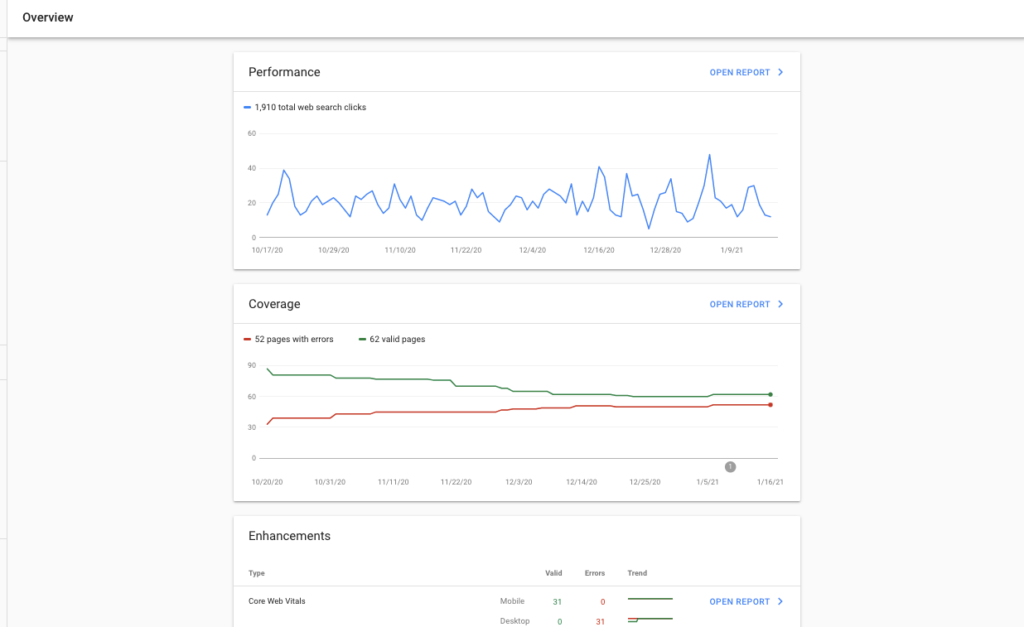 1. The reports
Google Search Console has three main reports
1.1 The performance report
The performance report is the report you will often use. It shows important statistics about your website performance from Google search engine results: the frequency with which it appears, its average position in the search results, the click rate etc.
This information is useful since you can use it to improve your SEO, and thus the performance of your website. This report allows you to :

Track your search traffic evolution over time, determine where it is coming from and which search queries are most likely to display your website.
Find out which search queries come from smartphones, and use this information to improve your mobile targeting.
Determine which pages in search results users click on the most (and least) often.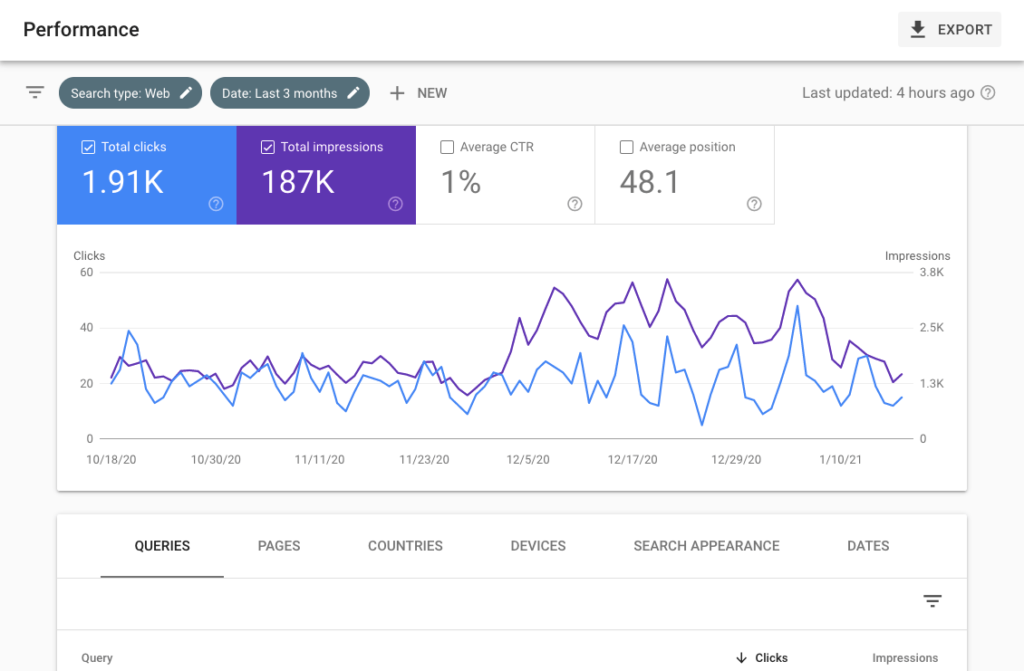 1.2 Index coverage report
The Index Coverage Report allows you to find out which pages have been indexed and the problems encountered when indexing the website. If you have no more than 500 pages on your website, Google does not recommend using this report. But rather use Google search to check if your url appears. In addition, if you see that some pages are struggling to be referenced, you can consult this report to identify the type of errors the page might have. For the verification process, there is also another "URL Inspector" tool that we discuss later in the article.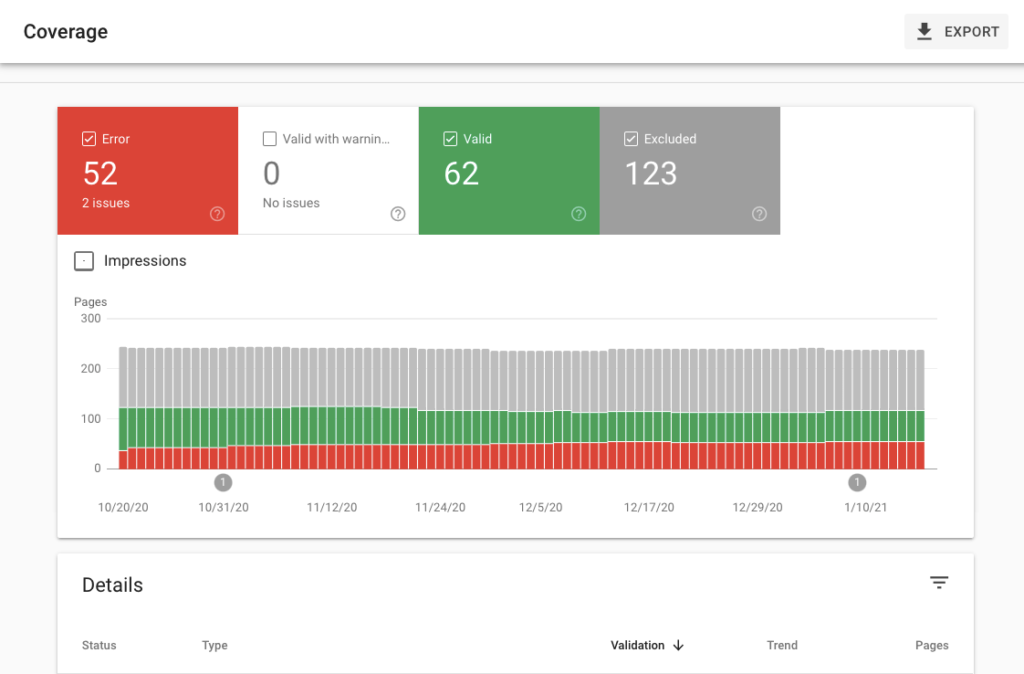 1.3 Enhancement Reports
Enhancement reports gather several reports including 2 main ones:

The "Core web vitals report" shows the performance of your pages based on actual usage data. It is quite important to occasionally have a look at it even more when you realise that poor performance influences negatively the bounce rate on the page. In addition, if you have poor performance Google will penalise your website from a ranking point of view since you don't provide a good experience to the users.
The mobile usability report identifies pages on your website that have usability issues when displayed on mobile devices.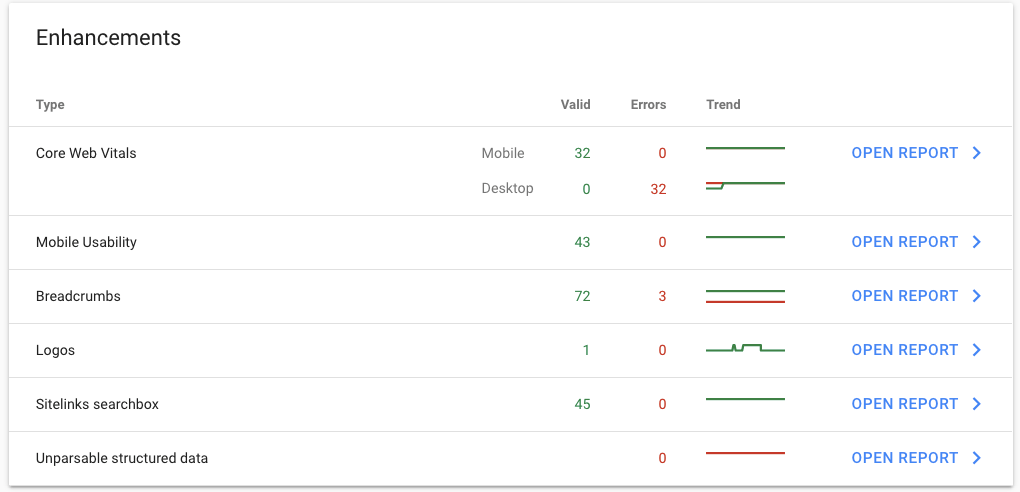 2. The features
In the tool there are other features that could be useful especially if you just built your website:


2.1 The sitemap
The sitemap is a file of your website that indicates to Google the pages of your website. These pages will be taken into account for SEO.

If you use a web hosting service such as Squarespace or Wix, a sitemap can be generated automatically for you. In this case, you don't need to create your own sitemap or use this report.
If you are using WordPress, thanks to extensions like Yoast, you can generate the sitemap and submit it in the Google search console.
2.2 URL inspection tool
The URL inspection tool provides information about the Google-indexed version of a specific page such as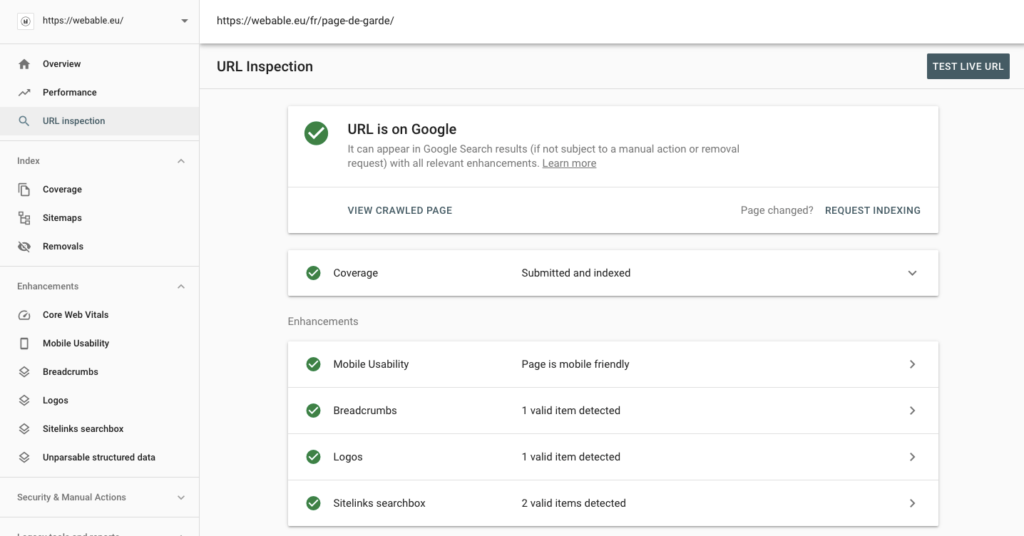 Check the indexing status of a URL: Gather information about the indexed version of your page by Google. Find out why Google was or was not able to index your page.
Inspect a live URL: Determine if a page on your website can be indexed.
Request a URL to be indexed: Ask Google to crawl or re-crawl URL.
View a rendered version of the page: See a screenshot of how Googlebot sees the page.
There are other reports/features that may be useful for understanding your website's health or performance. In this article, we've covered the basics of what you need to know when you start with the tool. Especially if you want to work on the SEO of your website, the free tool is pretty handy for queries that people use before they get to the website. If you have any other questions please feel free to ask them as a comment or contact me directly.
Main takeaways from this article
The Google Search Console allows you to

Identify search queries your community uses to get on your website. This will help you to improve your content.
Spot errors on your pages that might have an impact on the indexation of your pages.
Evaluate your SEO strategy.