Implementation of Google Tools (GA, GSC, GTM) on WordPress
Introduction
In the article about the Google Search Console (GSC), we explained that thanks to this tool you can analyse keywords that your community uses in the search engine to get to the website. Then, use this information to improve the SEO or positioning of your website.
To be able to do this analysis, you must first connect the GSC to your website. It is required to implement pieces of code from Google Search Console on your website. In the case of sites built from WordPress there is a solution that does not require access to the code for anyone who is allergic to any code. So don't worry if you are allergic to everything related to coding.
Extension Google Site Kit
This solution is the Google Site Kit extension that allows you to connect a large number of Google products to your WordPress website.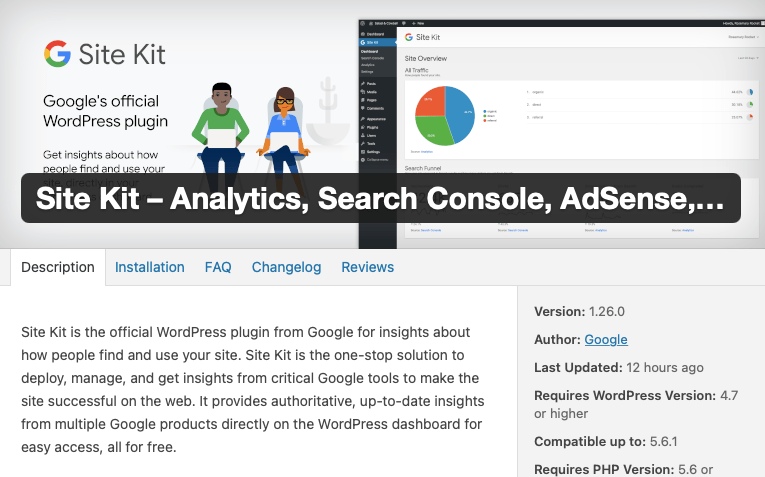 As indicated in the description of the extension, the kit includes features that make the use of these Google products seamless and flexible:

Easy-to-understand statistics directly on your WordPress dashboard;




Official statistics from multiple Google tools, all in a single dashboard;




Quick configuration of several Google tools without having to modify the source code of your website;




Metrics for your entire site and for individual posts;




Easy-to-manage permissions for WordPress and through various Google products.



The kit covers several Google tools:

Implementation and activation of the extension
Once you have installed and activated the extension, you will be asked to start the implementation which consists of 3 steps. The goal is to check the site ownership. If the email you use on your website is a gmail, this process should take you a few seconds to complete. This is really a time saving compared to the usual procedure where you have to modify the source code of your website.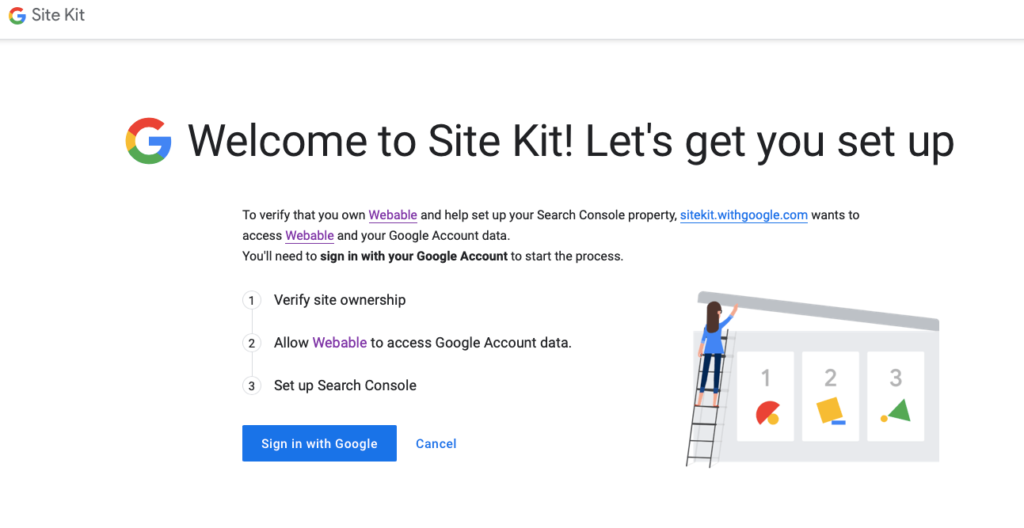 As soon as the implementation is done for Google Search Console for example, you can continue with other tools such as Google Analytics (with exactly the same steps).
Once the tool is installed, you will have access to some metrics in the WordPress dashboard. This is not as detailed as when you go into the tool (GSC, GA… ), but it allows you to have an aggregated view of each tool.
Google Site Kit: Google Analytics
Google Site Kit: Google Search Console & Google Analytics

Nevertheless, I would like to point out that metrics you find in the WordPress dashboard are limited. If you want more information you will always have to go to specific tools. Ps: We will discuss the dashboards topic in a next article that will be dedicated to DataStudio (a free dashboarding tool), a simple way to visualize data from the different traffic source.
The advantage of this extension
Normally, when you need to connect an analytical tool to your website, you have to go through the implementation of a piece of code. When you have several pieces of code on your site, this can have a negative impact on the loading time of your pages, which in turn has a negative impact on the user experience. So indirectly, the implementation of these pieces of code can affect your natural search engine optimization on Google since the experience is not good.
In addition, you are not immune to errors when implementing these codes.
Therefore, thanks to this extension you not only reduce the risk of having a negative impact on the site's performance, but you also protect yourself from a potential error during configuration.
In conclusion, the Google Site Kite extension allows you to connect your WordPress website to Google tools such as Google Search Console (GSC), Google Analytics (GA), Adsense, Google Tag Manager (GTM) or Google Optimize. The advantage of this extension is that it reduces the number of codes to implement on your website, and reduces the risk of errors in the configuration process of these tools.